Chatting without Penalty: The Evolving Role of Instant Messaging in Legal Matters
Chatting without Penalty: The Evolving Role of Instant Messaging in Legal Matters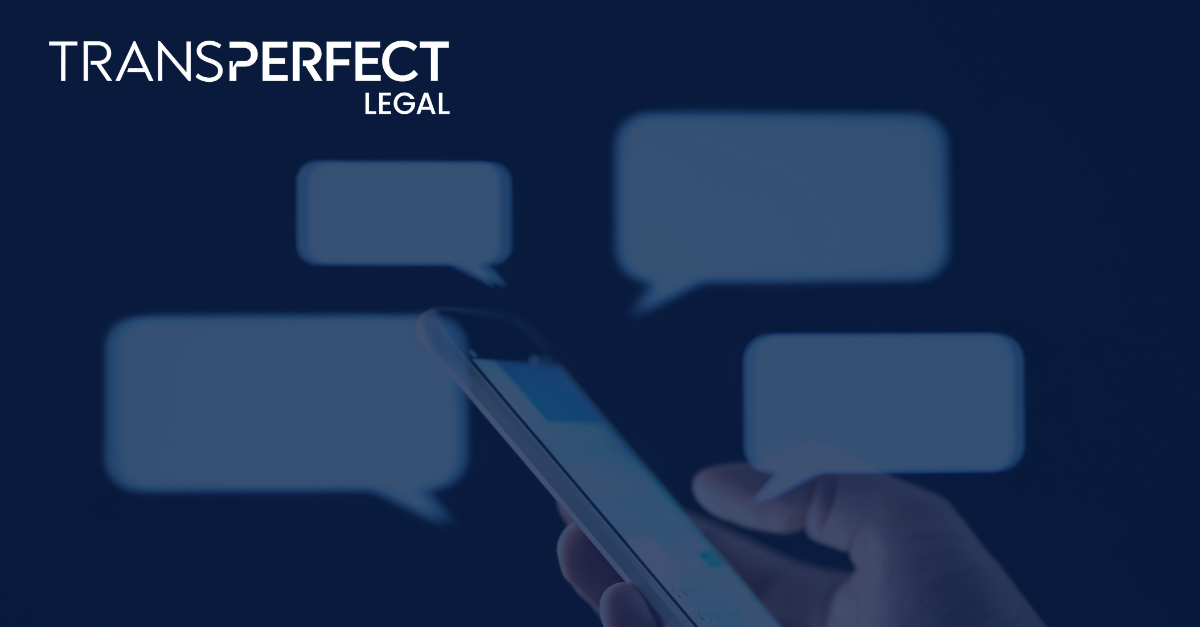 November 13, 2023

I. The Phenomenon of Instant Messaging
Evolution and Proliferation
From basic platforms like IRC and AIM to globally dominant apps such as WhatsApp and Telegram, instant messaging (IM) has witnessed a radical transformation, becoming an indispensable part of global communication.
Statistics Speak Volumes
Today, over half of the world's population uses instant messaging. By the end of 2020, there were 4.3 billion global messaging app users. Given this proliferation, businesses can't ignore the omnipresence of these platforms. WhatsApp alone boasts over 2 billion users globally, with over 80% of the UAE population using the messaging app. China's WeChat isn't far behind, with its user base exceeding a billion. This rapid ascent of IM platforms underscores their integral role in modern communication.
Beyond Just Texts
Instant messaging has transcended mere text exchanges. Today, IM apps facilitate multimedia sharing, video calls, and even financial transactions. For instance, WeChat, a dominant player in China, has transformed into a super-app, offering services such as payments, booking doctor appointments, and micro-blogging. Telegram boasts a public API for developers, allowing them to create third-party applications, bots, and integrations.
The Drive for Efficiency
Instant messaging platforms are becoming increasingly sophisticated, offering myriad business solutions ranging from customer support to targeted marketing campaigns. These tools provide businesses and government agencies with real-time feedback, opening doors to enhance customer engagement, satisfaction, and retention. The government of the UAE, which prides itself on being a pioneer of transformation, has currently listed the following government services available on WhatsApp:
Sharjah Municipality – Share feedback and complaints.
MoHAP – Request to issue children's birth certificates.
RTA – Pay for parking.
DEWA – Pay for utilities, track consumption, raise a request, etc.,
…and others.
II. IM in the Legal Spotlight
The Evolving Evidentiary Hierarchy in White-Collar Enforcement 
For decades, email has been the gold standard for business communication, offering enforcement authorities a consistent record of communications. Yet, as communication methods evolve, chat messages are becoming increasingly relevant. The preference for informal communication channels, like chat platforms, has grown, especially during the pandemic. This shift, combined with the awareness that employers can monitor work emails, has seen a surge in chat-based communication over platforms such as Microsoft Teams, Apple's Messages, and WhatsApp.
Enforcement authorities, notably the DOJ and the SEC, have taken note of this evolution. In the case of the UAE, the Electronic Transactions and Commerce Law Number 2 of 2002, which governs electronic evidence, stipulates that if certain conditions are met, electronic records, including chat messages, can be used as evidence. The conditions typically require the electronic record to be retained in its original format or in a format that can demonstrate the authenticity of the original message, and the information should be stored in a manner that makes it accessible for subsequent reference. Parties seeking to use chat data as evidence should ensure they follow these guidelines to enhance the admissibility and weight of the evidence in court.
The Technological Hurdles
However, the journey to accessing chat messages isn't without its challenges. The very nature of chat messages is evolving. Platforms now offer features like disappearing messages, post-send editing, and end-to-end encryption. For instance, Telegram's secret chat functions are device-specific and not part of the Telegram cloud. On Telegram, messages cannot be forwarded and any deletion of messages from the sender side also requires the messages to be deleted on the receiver's side. Furthermore, you can time your messages, photos, videos, and files to self-destruct in a set amount of time after they have been read or opened, rendering the content irrecoverable.
Despite these challenges, companies cannot afford to be complacent. They must adapt, ensuring access to business communications while balancing employee privacy and technological limitations.
Proactive Measures for Employers
With increased pressure from the government, companies must take proactive steps:
BYOD Policies: Companies should review "Bring Your Own Device" policies. This ensures that employers have the right to access business communications on personal devices used for work while adhering to relevant data privacy laws.
Designate Official Chat Platforms: Recognizing the shift toward informal communication, companies should designate official chat platforms for work-related discussions. This ensures that work communications are easily accessible and monitored. Platforms like Microsoft Teams or Slack, which allow employer access, should be prioritized.
Training and Discipline: Once an official platform is chosen, employees should be trained on its use and the importance of keeping work communications within the designated platform. If employees are found using non-sanctioned platforms for work communication, appropriate disciplinary action should be taken.
Such measures not only guard against potential legal liabilities but also align companies with the expectations of enforcement authorities, ensuring smoother cooperation during investigations.
The Courtroom's Take
Recent cases illustrate the judiciary's recognition of the significance of short messages.
In a high-profile case involving the UK energy market regulator, Morgan Stanley was fined £5.4 million for not maintaining records of communications among its energy market traders, highlighting the expanding global scrutiny of bankers using personal phones for business discussions.

From January 2018 to March 2020, several of Morgan Stanley's London-based international division employees used WhatsApp to discuss wholesale energy transactions.


A DIFC Court ordered Standard Chartered to undertake searches in response to requests made by a claimant, Shiraz Mahmood, to produce documents. The Bank agreed to conduct searches across various data sources including an instant messaging system and produce documents responsive to several requests.

TransPerfect Legal has developed a workflow to handle and produce data from an instant messaging system that is accepted by various courts.
It's worth noting that over two dozen financial institutions have faced fines totaling $2.5 billion due to the inappropriate use of encrypted messaging apps like WhatsApp for business transactions. Morgan Stanley's past brushes with similar issues include a 2021 fine alongside other Wall Street firms and internal disciplinary actions against employees for their use of personal messaging apps.
III. Building Innovative Solutions to Common Problems…the TransPerfect Legal Way
Given the potential legal implications of short-message data, having a strategy is paramount. Over the past year, TransPerfect Legal has refined its approach to the collection, review, and production of short messages:
Menu of Collection Options: Custodians parting with their mobile phones is not as simple as expected. Would you hand over your mobile to some person carrying around a Pelican case? Depending on the time, cost, and sensitivity of the matter, there are four options available to collect data from mobile devices:

Off-site: One of the more cost-effective options. Devices are sent to one of 15 global labs for forensic collection.
Cloud collection: Another cost-effective method. Using custodian credentials, we can download the contents from the mobile device.
On-site: In-person mobile phone forensic collection using one of our 70+ highly experienced digital forensic collection professionals.
Remote collection kit: A forensic collection kit with a laptop is sent to a custodian. The device is connected using the relevant provided connectors. Our forensic technology team connects to the kit remotely and performs the collection.

Custom Scripts: TransPerfect Legal's solutions engineering teams have developed scripts to maintain the chat bubble format for review in platforms like Relativity. This ensures that messages are reviewed as they were intended to be read.
Dynamic and Flexible: Creating customized thread groups by participants, date, search hits, and surrounding messages allows reviewers to zero in on the context around messages.
Optimized Review and Production: TransPerfect Legal's proprietary application streamlines the ability to identify and remove duplicate chat data, truncate entire chats based on a specific time, apply redaction, and produce messages. Working seamlessly with review teams to ensure efficiency and make the process more comprehensible for both courts and clients.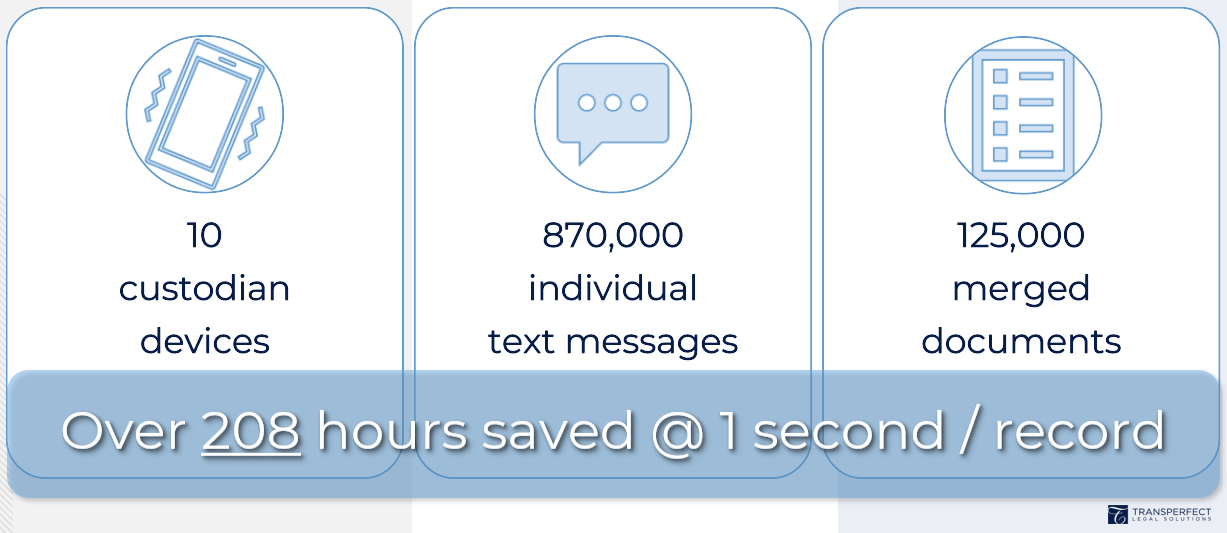 In the digital age, the prominence of short-message reviews is growing. The use of messaging apps is skyrocketing, and their evidentiary significance is increasing in the world of eDiscovery.
Blog Info
Junaid Khan, Director, Consulting & Information Governance