Quebec's Bill 96: How We Can Help 
Quebec's Bill 96: How We Can Help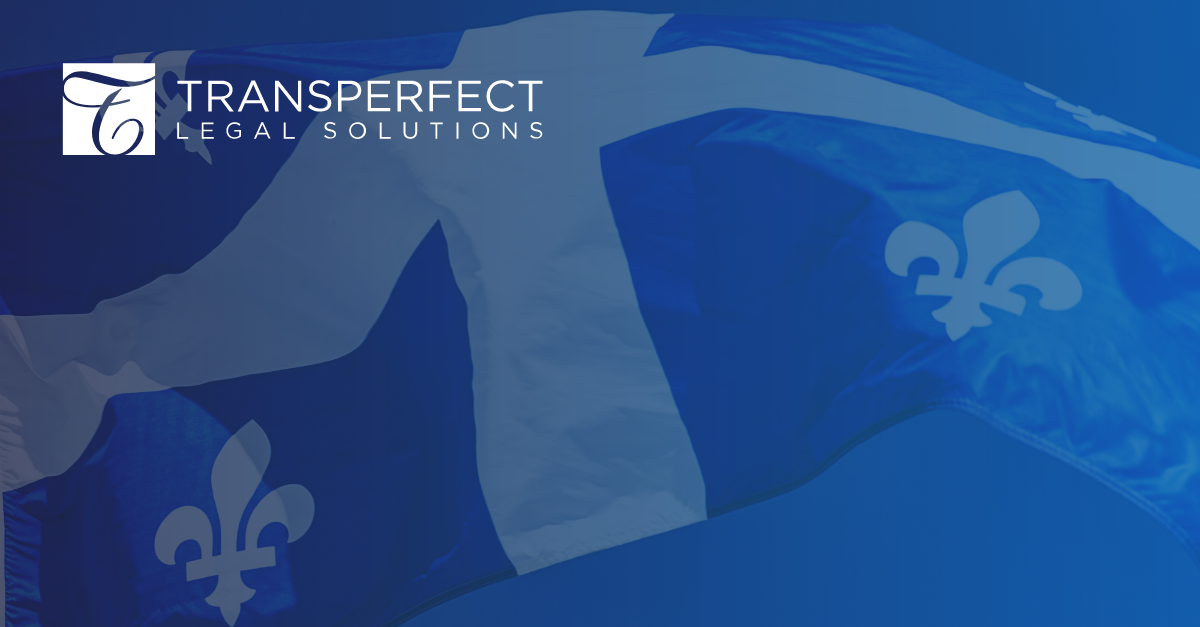 August 19, 2022

This past May, the Quebec government adopted Bill 96, with the intention of ultimately strengthening the Quebec language laws and preserving the French language. Although businesses with more than 50 employees were already subjected to many of the Charter laws, such as the Charter of the French Language, the government has made significant changes to the Charter and introduced new laws through Bill 96.
The bill can be confusing and overwhelming for businesses trying to navigate this new legislation. To help, we have highlighted some key takeaways and how TransPerfect can help assist businesses with their French translations and strategy in a cost-effective way.
Here Is What You Need to Know
The Charter had already required businesses with more than 50 employees to offer both English and French to their employees and clients. As of June, 1, 2022, Bill 96 requires businesses with more than 25 employees be subject to this law and communicate in both English and French.
Product descriptions, instructions, manuals, advertising, packaging, internal communications, and more will also need to be in Canadian French to ensure businesses are compliant with the new bill. What's more, businesses must ensure that the French text is not shown in an unfavorable way compared to the English.
Businesses that recruit and relocate employees to Quebec will now also only have six months to teach them French. After six months, their employer will have to communicate exclusively in French in the workplace.
How Will Bill 96 Affect Businesses?
The cost of translation can be a burden to many businesses, especially small businesses with razor-thin margins. For enterprise businesses, the scope of content that must be translated can also be a challenge, with large amounts of content now requiring translation. TransPerfect can centralize and mitigate many of the forthcoming pain points associated with Bill 96. Speed, scale, and quality are the roots of our organization. Consider the following cost-effective strategies to optimize your translations.
Machine Translation
Although many companies might be hesitant to use machine translation, there are certain use cases where raw machine translation can be a great alternative to human translation. Raw machine translation can cut costs and time significantly. Many companies benefit from using machine translation for internal documents. For instance, when your Quebec employees communicate with other global employees in French, or if they are sending contracts or other internal documents and need a basic understanding of their content, raw machine translation can be cost-effective.
Machine translation, with a light or full post-editing step by a human proofreader, can benefit organizations. In these cases, we do not view machine translation as a replacement for human translation but rather as a way to streamline the translation and localization process. By using machine translation with a light or full post-editing step, you can cut costs and turnaround times significantly compared to a fully human-centered approach.
AI Portal
AI is a hot topic for many businesses today. TransPerfect's proprietary GlobalLink AI Portal was designed to provide self-service machine translation and replace publicly available alternatives that come with potential confidentiality and security risks. Documents and short texts can be translated in real time with the option of adding the aforementioned light or full post-editing step. The AI Portal can also be customized with linguistic assets such as translation memories and glossaries to teach/train the content to better align with your business speak and nuances.
Translation Memory
Translation memory is another tool we use to help our clients dramatically reduce costs by leveraging previously translated content. We store the translations for each of our clients in an electronic database and reuse existing translations where duplicates exist. The technology does not replace the human linguists working on these projects but is simply a tool that helps them leverage the previous translations to quicken translation time. It improves consistency across all documents and significantly reduces translation costs as repetitive or partially repetitive content is found within the content.
MediaNEXT
Video is the number one form of media used in content strategy, so it's important to develop a cost-effective video production model efficient enough to support all your channels and languages, especially for Canadian French. Media production can be overwhelming and cost-heavy, which is why we have created a cloud-based AI tool for all your media localization and management needs. Offering machine translation with a full post-editing step for subtitling, voiceover, dubbing, and more, MediaNEXT uses an AI-based workflow to reduce media costs by 25% and time-to-market by 50%.
Support for Your Employees and Customers
Call Center Support
Bill 96 tightens legislation pertaining to not only written communication but also verbal communication. Small to medium-sized businesses may struggle to find staff who can communicate in Canadian French.
TransPerfect can assist organizations with their calls by using our device-independent call center solution that allows our clients to easily and affordably route calls to our global call centers. Routed calls can be handled immediately, providing maximum efficiency. The process is simple: we provide our clients a 1-800 number, which customer service agents can call. They then choose the language they need (such as French), and within seconds an interpreter joins the line for a three-way call to better facilitate communication between the agent and the client. Not only does this help companies ensure compliance with Bill 96 but it also improves customer experience.
Training
Any organizations with employees residing in or moving to Quebec are faced with the challenge of ensuring all new or existing employees are adequately trained in French. TransPerfect has a specialized e-learning team that can help companies adapt their training courses for their non-English-speaking employees, and vice versa. We can help create French e-learning modules from scratch for teams with low bandwidth or translate existing modules using a full turnkey solution that includes voiceover, subtitles, testing, and more to deliver a ready-to-publish course. We can ultimately reduce project management by 40% by being able to work directly into the authoring tool and return a full turnkey product. We can also do instructor-led training in French or provide language assessments to help you validate the language skills of candidates.
Return on Investment (ROI)
TPT Digital
Although it can be daunting to develop a bilingual or multilingual communication strategy, investing in digital marketing content and a search engine optimization (SEO) strategy for the French marketplace can be a great way to generate ROI. If you are not investing in SEO, you could be missing out on capitalizing on the Quebec marketplace. TransPerfect can help with your SEO and digital marketing strategy by using our native-speaking search, social, and e-commerce specialists. Our specialists are not just translators: they consider how culture and language influences user search, social, and online purchasing behaviors. By adapting your SEO and digital marketing strategy to the Quebec market, we can help increase your conversion rates and website traffic by.
TransPerfect has several tools and solutions that help your business not only better reach your target markets but also stay compliant with stringent laws like Bill 96. The new requirements can be overwhelming, but we are here to help. We have teams in place ready to help you tackle Bill 96. Reach out today!  
 
Blog Info
By: Brianna Farrell, Account Executive